Alulife® is a surface of high aesthetic value made of 100% recyclable aluminium that gives exterior or interior cladding a new touch, reinvented, particularly material to the touch as to sight. Dimensions "made to measure" of pure solid but lightweight aluminum, minimum thickness of 3 mm to rise, perfectly smooth and elegant, easily workable and moldable, for high-impact projects in modern architecture, but also the spirit of ancient and durable for the restoration of historic parts.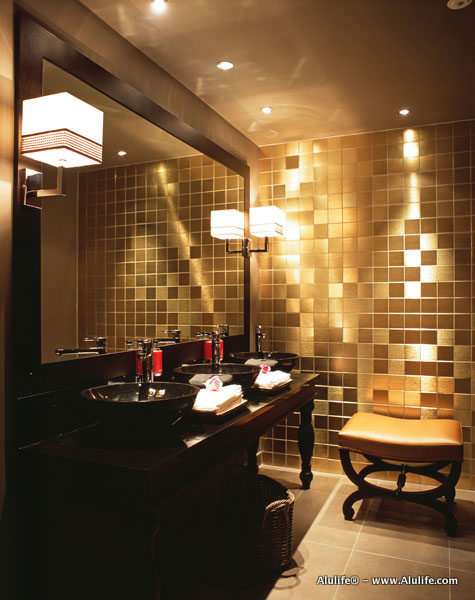 From research to final product, Alulife® is excellence 100% made in Italy.
From decorative items to special applications, prestigious companies choose Alulife® to interpret their needs.
Alulife® loves and respects the environment. In Class A1, with a special alloy also for marine environments and exterior facades.
The outstanding workability of aluminium makes Alulife® a versatile, innovative material that blends quality aesthetics and high-end applications in a single solution. Sheets that can be bent, calendered and fully recycled become a light, technical material suitable for any intended use by architects and designers.
Alulife®, a unique surface, exciting and incomparable for interior and exterior with a wide range of colors.
The patented Alulife® surface gives aluminium a unique, emotional touch. Bright, material and sensual, its texture reflects the light, revealing the elegant complexity of its variations. A highly functional solution for interior and exterior coverings that offers architects and designers a quality product able to satisfy any desire.
Alulife® light, bright, easy to install and to clean.
Light, strong and totally recyclable, Alulife® reinterprets aluminium by proposing floorings with unique, exciting aesthetics. Polished and satin finishes for a wide range of formats, thicknesses and colours in service to creativity.